Balcones Peated Texas Single Malt 2020 Edition
A phenomenal peated single malt whisky, crafted with 100% Scottish malted barley dried over a peat moss fire in Scotland. Made in Texas, USA.
Situated in Texas where the extreme and rapid temperature swings make the barrels "breathe" much faster, Balcones Distilling started as a passion project in an old Texas weldin shop in 2009. Today, this is one of the most unique, grain to glass craft distilleries out there. Using only the best of ingredients from blue corn grown in New Mexico to the first malted barley grown in Texas and handmade Scottish Forsyths copper-pot stills, Balcones pays special attention to the barrels. They consider oak to be an ingredient in whisky as well and their barrels are all customized. Balcones whisky is aged in several barrel types for a more complex flavor profile. Besides Balcones whisky which is adored for its bold and intense flavors, they also make rum.

Balcones Peated Single Malt Whisky is a special limited-edition release to celebrate the 10th anniversary of Balcones Distilling in Waco, Texas. Crafted with 100% Scottish malted barley dried over a peat moss fire in Scotland, it was made entirely under one roof in the USA. Aged in oak casks and bottled at 125.8 proof, this phenomenal example of a single malt done right features a rich nose with heavy aromas of earth and oak, developing further to create an incredibly round and creamy palate.

Balcones Distilling was named Craft Producer of the year by the Icons of Whisky America in 2018.

Grab your peated single malt made in the USA!

More Information

| | |
| --- | --- |
| Proof | 125.8 (62.9% ABV) |
| Distiller/Bottler Name | Balcones Distillery |
| Size | 750mL |
The nose is rich with heavy aromas like earth, oak and caramel fading into spicy notes of incense and burnt cedar strips. The palate is extremely round and creamy, like a Lapsang Souchong tea infused with brown sugar and cinnamon. The finish is long and dry, revealing spicy notes, cardamom and a hint of grilled chilies.
Note: Not Eligible for Return
Out of stock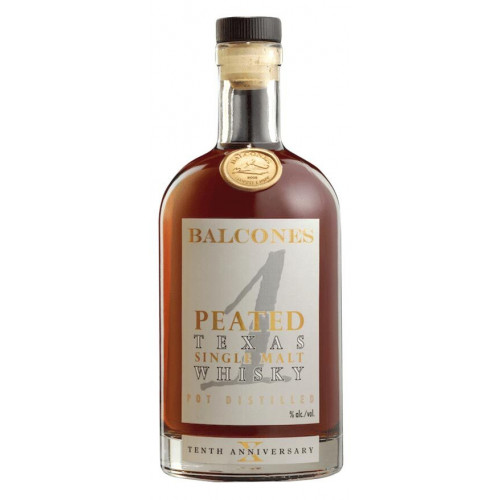 Limited Edition