The Kraken Attacks Florida
A limited-edition spiced Caribbean rum from The Kraken, dedicated to Florida. Blended with natural flavors and caramel color, this black rum is attacking Florida at 94 proof.
First introduced in 2010, Kraken Rum is a Caribbean black spiced Rum, produced by US-based Proximo Spirits. The base rum is a molasses-base rum from Tinidad where it's made with locally grown sugar cane. Kraken Rum is inspired by the Kraken, a giant mythical sea monster. According to the legend of the Kraken, once upon a time in the Caribbean Islands, a ship carrying a large amount of black spiced Rum disappeared mysteriously – and with it all the sailors. Rumor has it that the ship carrying the black spiced rum was attacked by the Kraken as the monster resided in the blackest depths of the sea, emerging only to destroy and devour entire ships. Only one barrel of rum survived, stained by the squid's black ink – it was named "The Kraken Rum".

Released in 2021, The Kraken Attacks is a limited-edition collection of spiced rums. The Kraken Attacks Florida was inspired by a mysterious creature that has everyone from the mermaids in Weeki Wachee to snow birds in Boca trembling with fear. Nothing and nobody are safe from the smooth, black tentacles of this mysterious beast. Blended with natural flavors and caramel color, this spiced rum is bottled at 94 proof.

Get The Kraken Attacks Florida today!

More Information

| | |
| --- | --- |
| Proof | 94 (47% ABV) |
| Distiller/Bottler Name | Trinidad Distillers Ltd |
| Size | 750mL |
Black hue. The nose greets with caramel, toffee, and spice. The palate is smooth with signature flavors of cinnamon, vanilla, and nutmeg. The finish is lingering and spicy.
Note: Not Eligible for Return
Out of stock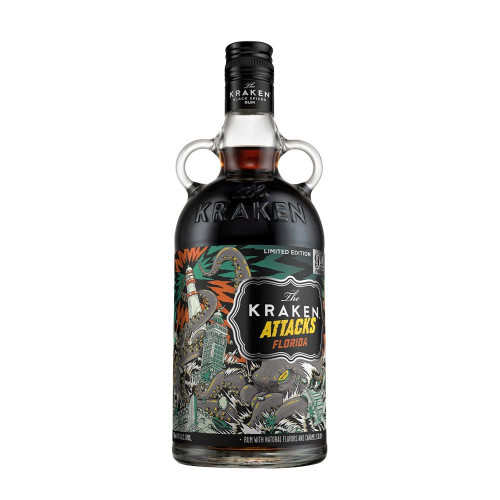 Limited Edition