Lagavulin 37 Year Old Single Malt Scotch Whisky
Aged for 37 years, this is the oldest whisky released by Lagavulin Distillery.
Situated on the banks of
Lagavulin
Bay on the island of Islay, Lagavulin Distillery is one of the oldest distilleries in Scotland. Distilling took place on the banks of Lagavulin Bay as early as 1742, and by the turn of the century, there were as many as ten illicit stills operating in the area. In 1816, John Johnson founded the first legal distillery on the site, and within a year Archibald Campbell had opened a second. After Johnson's death, Alexander Graham acquired Johnston's distillery for £1,100 and eventually united the two distilleries together under the Lagavulin name. Since that time, the rich, peaty water that runs down the brown burn and through the Solan Lochs into the hills just next to Lagavulin Bay has served as the lifeblood of the distillery.
Lagavulin Single Malt Scotch Whisky is known as one of the most intense, smoky single malt whiskies ever made — the peated barley used to create Lagavulin Single Malt has up to twenty times as much exposure to peat smoke as compared to typical Scotches. Once the grains used to craft Lagavulin Whisky have been harvested and malted, they are dried over a peat and gas fire calibrated specifically to produce Lagavulin's signature, bold flavor profile.
Then, the grains are milled and mashed before being fermented for approximately 72 hours. Following fermentation, the whisky is distilled twice — first through a wash still for approximately five hours and then again through a spirit distill for approximately nine hours. This is the slowest distillation process of any Islay distillery, and gives Lagavulin its characteristic round flavors and mellow edges. Once the whisky has been distilled, it is matured in oak casks.
Lagavulin 37 Year Old Single Malt Scotch Whisky is the oldest and most prestigious release from the Islay distillery. The whisky was matured for nearly four decades in casks composed of American and European oak before being bottled at cask strength (102 proof). "Lagavulin is probably the most sought-after single malt whisky in production today "" universally acknowledged as one of the unchallenged grands crus of Scotch whisky," said Georgie Crawford, Distillery Manager at Lagavulin. "For many years we have been unable to supply sufficient mature spirit to meet worldwide demand. So bottlings of old Lagavulin are exceptionally rare."
Only 1,868 bottles of this single malt have ever been produced. Pick one up today!
More Information

| | |
| --- | --- |
| Proof | 102 (51% ABV) |
| Distiller/Bottler Name | Lagavulin Distillery Bottler |
| Size | 750mL |
Sensational and rounded. Aroma of dark chocolate, peat and ripe tropical fruits. Touches of banana, charcoal, black tea and pine on the palate. Slightly tart, beautiful finish.
Note: This product is not eligible for gift wrapping.
Note: Not Eligible for Return
Out of stock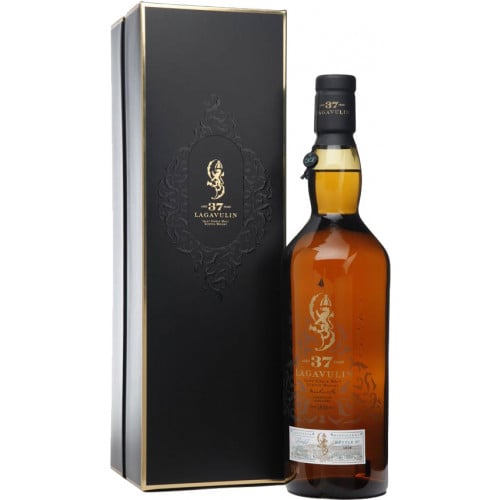 Limited Edition