Jack Daniel's Single Barrel Special Release 2020
This Tennessee icon is built on historical knowledge. As it turns to the future with a new recipe aged in new American oak, we get this delicious bourbon-like rye.
"Rock and Roll's got to be like Jack Daniel's. You've got to feel it burn," says Nikki Sixx.
Born on September 5, 1850, Jasper Newton "Jack""Daniel was the youngest of ten children. His parents were of Scottish and Irish descent. In 1864 Jack learned the art of whiskey making from the preacher and an enslaved man named Nathan "Nearest" Green. Nearest eventually became Jack Daniel Distillery's head distiller. Daniel's distillery — founded in Lynchburg, Tennessee, in 1866 — was the first registered distillery in the country (at the time, distilleries were required to register with the federal government, and the Jack Daniel Distillery was given Registered Distillery Number 1. Today, Jack Daniel Distillery is one of the most distinguished and recognizable names in the spirits industry.

This is the first-ever release since Master Distiller Chris Fletcher took over. It might be the producer's newest recipe, but it sure still feels like the Tennessee icon you love. The rye-heavy and high-proof whiskey still delivers the famous spicy burn that Nikki Sixx appreciated. Blame it on the new American white oak barrels aged in the highest spots of the barrelhouse or Jack Daniel's signature charcoal mellowing, but you can taste the legacy in every sip. The nose is fruity with an unexpected bourbon similarity, and the finish is gentle, though the signature kick is there.

Get a bottle today! Only some 200 barrels of this copper-colored dram exist!

More Information

| | |
| --- | --- |
| Proof | 133.2 (66.6% ABV) - May Vary |
| Distiller/Bottler Name | Jack Daniel Distillery |
| Size | 750mL |
A copper hue with a citrusy, fruity nose that turns into sweetness of sugar, melted butter, and vanilla. The palate starts sweet but is balanced with black pepper and clove.
Note: Not Eligible for Return
Out of stock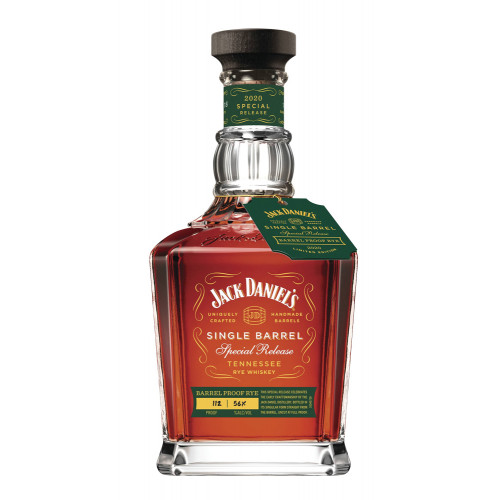 Limited Edition