A LOOK INSIDE THE DISTILLERY
Take a trip. Take a friend. Take a tour. Take a sip. Take it home! Take a peek inside the ultimate distillery experience in the Great Smoky Mountains at Sugarlands Distilling Company. Explore more at Sugarlands Distilling.
SUGARLANDS STILLHOUSE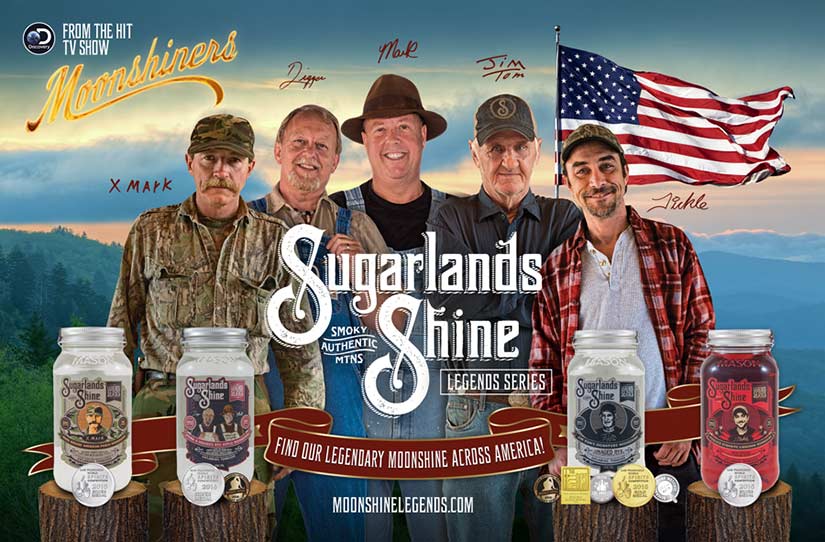 With one foot firmly planted in the past and the other in these modern times, the Still House is where our delicious Sugarlands Shine is made. Our artisanal stone burr mill grind grains like corn and rye into meal that is then mixed with Smoky Mountain water and is then moved to our giant cooker. From there, the liquid is transferred to the fermenter to simmer for a few days. When the time is right that "wash" is pumped into the copper pot still where it is heated and distilled. The alcohol vapor filters through the copper pipes and rises up through the plates of the distillation column, down through the chilling column to cool and is finally poured out in to the Spirit Safe for collection, testing, and tasting.
THE LEGENDS FROM TV'S "MOONSHINERS" ON DISCOVERY CHANNEL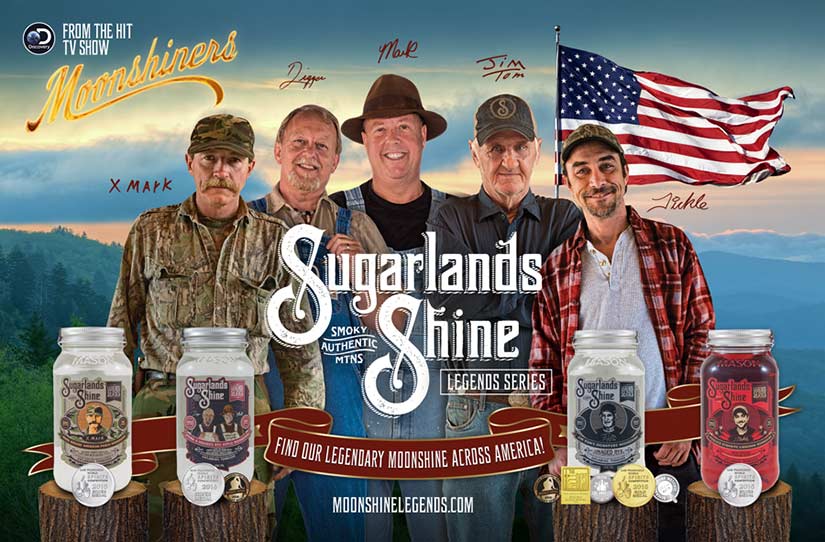 Discovery Channel's TV show, "Moonshiners" enjoys immense popularity. We're fortunate to produce and distribute the moonshine of Appalachian moonshine legends Jim Tom Hedrick, Mark Rogers, Mark Ramsey, Digger Manes, and Steve Tickle. They frequently make appearances at the distillery to meet guests and sign autographs. Learn more at Moonshine Legends
SAMPLE MOONSHINE AT THE SIPPIN' POST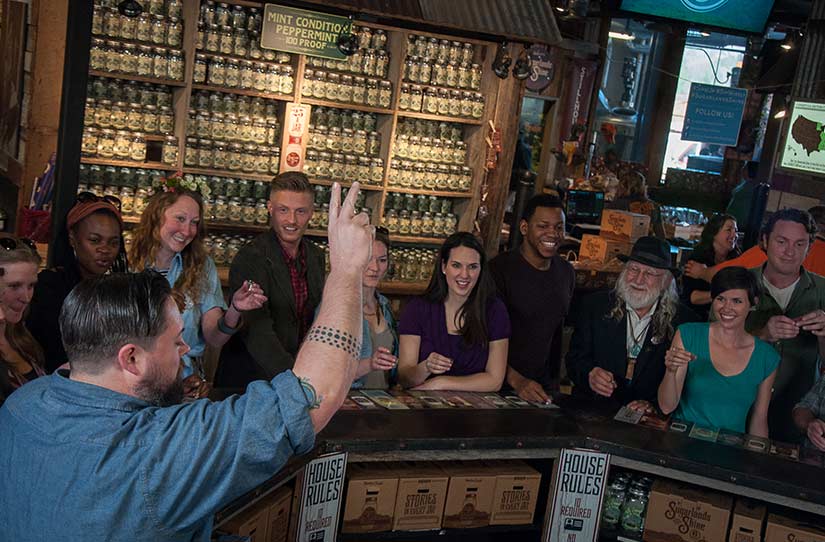 Guests are served samples of award-winning moonshine at the "Sippin' Posts". The knowledgeable and friendly bartenders known as "Tastemakers" guide visitors through the tasting process. Sips up!
LIVE MUSIC ON THE SUGARLANDS SPIRIT STAGE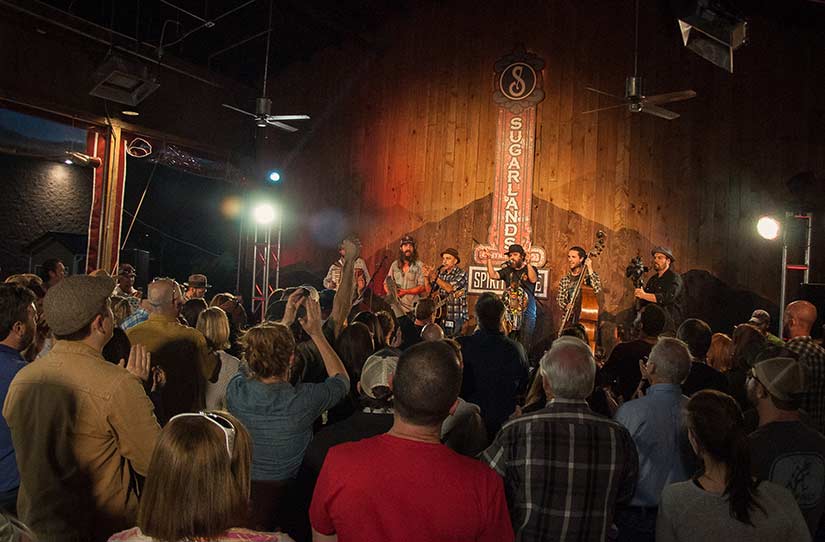 The Sugarlands Spirit Stage is Smoky Mountain's home for live music. National, regional, and touring musical acts play for diverse audiences visiting the Gatlinburg area from all over the world. Pull up a rocking chair, relax on our back porch, and catch some of the hottest artists in Americana, bluegrass, blues, swing and country music. For a complete list of upcoming shows visit Sugarlands Distilling Happenings
PREMIUM TOURS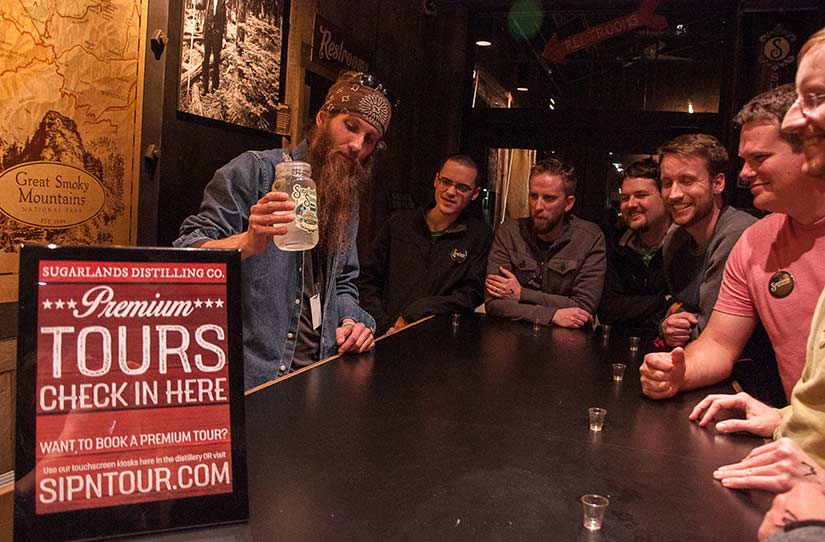 In addition to free daily tours, we offer premium, private experiences to visitors who want to survey the intricate details that make the downtown Gatlinburg distillery truly shine. Participants will also be given the opportunity to taste the final product—award-winning Sugarlands Shine—in a private setting with friends and family. To book a premium tour visit: SipNTour.com
OUTDOOR ADVENTURES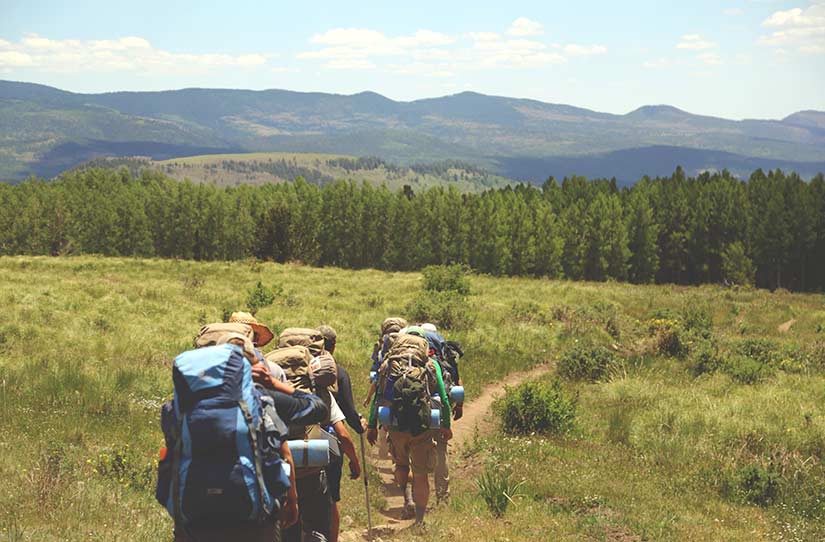 Our name comes from the Sugarlands area of the Great Smoky Mountains National Park. Our partners, Smoky Mountain Guides, provide high quality small group adventure hikes & tours all over the Smokies for families, friends, and even corporate retreats. Browse and book your mountain adventure ahead of time here.
MOONSHARE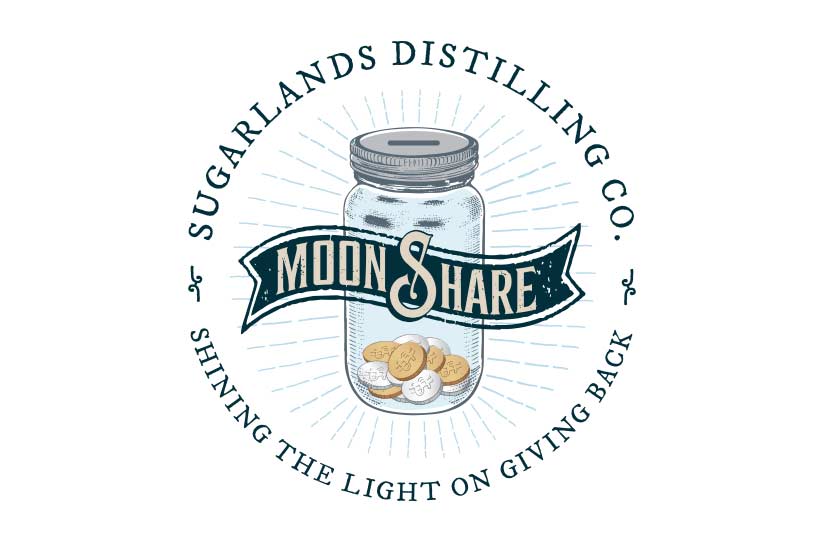 MoonShare is a nationwide "give back" program of Sugarlands Distilling Company that helps non-profit organizations positively impact their communities through grants, fundraisers, and donations. For more information visit MoonShare.