Tesseron Royal Blend Rare Cognac
Originally commissioned for a royal family, this selection of extremely old Grande Champagne cognacs was chosen from the Tesseron family private collection. Aged for 50 years in Tierçons barrels, only 1,000 bottles of Royal Blend were produced for the world.
Tesseron Cognac was founded in 1905 by Abel Tesseron. During this time the cognac house was split between two estates, one situated in the Grande Champagne area (Boneuil) and the other in Petite Champagne (Saint-Surin). The eaux-de-vie was stocked and carefully conserved in a twelfth-century crypt. Treasured amongst a small circle of connoisseurs, Tesseron always been sought after.

Tesseron is now run by the third and fourth generations of Tesserons. Alfred Tesseron is the third generation of Tesseron men with deep roots in the authentic traditions of cognac and wine production. He inherited the gift of creating elegant cognacs from his father, Guy Tesseron, having spent his youth in France, he worked in America for a leading US distributor, before contributing to one most successful Grand Crus in Paulliac, Medoc. Melanie and Justine are the fourth generations of Tesserons. Joining the family business in 2005, both having experience in the spirits industry.

The doors of the Tesseron home in Châteauneuf-sur-Charente lead to a unique collection of the finest cognacs. A treasure trove of spirit dating back to the nineteenth century when Abel Tesseron acquired the property to begin his priceless collection. A tradition kept alive by his son and grandson Alfred, who run the business and well as own the prestigious Château Pontet-Canet, a Pauillac Classified Growth in 1855.

Uniquely all three traditional Cognac grape varieties Ugni Blanc, Folle Blanche, and Colombard are still grown on the Tesseron estates. The Folle Blanche and Colombard varieties have pretty much disappeared in the region, as they are challenging to cultivate and produce small crops, but these varieties add a valuable extra dimension to the final blend. The grapes are gathered during the long, warm, sunny days of early autumn and fermented to produce a low strength, acidic wine of approximately 8% ABV.

The distillation is strictly overseen during October through March of the following year. The cognacs are double-distilled in gleaming copper 'pot' stills heated by a naked flame. Only the 'heart' of distillation makes it into the final Cognac. The Tesseron cellars —dating back to the 13th century— were once part of the crypt of the local church.

Here the young 'eaux-de-vie' is laid to rest, left to age quietly, maturing in old oak casks for many years. The casks are crafted from ancient oaks, felled in the nearby forests of Limousin. During maturation the cognac gently oxidizes, absorbing the soft tannins from the old oak casks.

Tesseron Cognacs have great complexity and depth, taking many years to develop, as the 'maître de chai' crafts a subtle blend of three grape varieties: Ugni Blanc (for roundness), Folle Blanche (for finesse) and Colombard for (strength and depth). Each cask and eau-de-vie variety imparts a special nuance to the final blend.

Tesseron Royal Blend was originally commissioned for a royal family. The selection from extremely old Grande Champagne cognacs was chosen from the Tesseron family private collection. Chosen for their exceptional fruity and floral aromas, this cognac is a blend of cognacs crafted from Ugni Blanc and Colombard grapes, all of which have been aged for a minimum of 2 generations.

Royal Blend is matured for 2 months in Limousin oak before spending around 50 years in Tierçons barrels that are them- selves 50-60 years old (making them some of the oldest and most precious barrels in cognac) which are used exclusively for the rarest cognacs. This extraordinary blend, aged for two generations, is bottled in hand-blown glass created by a master glassblower and faithful replicas of the ones found in the family's treasured Paradis cellar. Only 1,000 bottles of Royal Blend were produced for the world.

Pick up your bottle today!
More Information

| | |
| --- | --- |
| Proof | 80 (40% ABV) |
| Distiller/Bottler Name | Maison Tesseron |
| Size | 750mL |
Delicate aromas of fruit, flowers and spices. On the palate, are flavors of cognac rich, elegant, perfectly balanced notes, exceptional softness combined with infinite depth of complex. The finish is long velvety with hints of chocolate.
Note: This product is not eligible for gift wrapping.
Note: Not Eligible for Return
Out of stock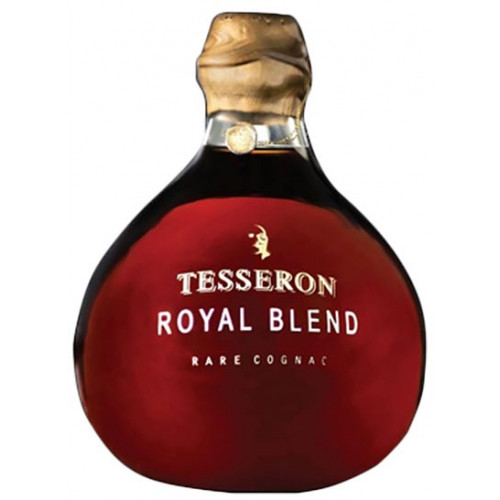 Limited Supply