Siembra Azul Suro Extra Añejo Tequila
This limited edition Siembra Azul Suro Extra Añejo is rested for five years in 75-year-old Ozark white oak barrels.
"Siembra" is Spanish for "the act of sowing a harvest." Siembra Spirits celebrates the responsible producers who honor the history, the land and the people of Mexico.

Established in 2005, Siembra Azul Tequila an exemplary Tequila House committed to the unparalleled quality of the Tequila traditions of the highlands terroir of Jalisco. From the town of Arandas, Siembra Azul stands as a testament to the future of traditions.

Siembra Azul, or "Blue Harvest" is a small-batch, artisanal, tequila crafted from only the finest blue agave in the Highlands of Jalisco, Mexico, harvested from deep red, mineral-rich soil. The enriched agave elevates the flavor profile of the tequila, yielding a fresh spirit bursting with agave notes.

Being grown at such high elevations produces agave with longer lifespans and richly complex starches that yield higher sugar contents. Some Blue Weber Agave can weigh up to 200 lbs and take nearly a decade to mature.
 
Every step of production of Siembra Azul tequila is meticulously monitored, led by David Suro-Piñera, the goal of Sienbre Azul is to promote transparency and awareness about this incredibly complex desert agave. The Siembra Azul portfolio consists of their Blanco Lot 5 Anejo, Reposado 10 yr Anniversary, Extra Añejo Suro, and Single Barrel Extra Añejo Elisa, as well as their collector's Extra Anejo Pinera.

This single release, limited edition Siembra Azul Suro Extra Añejo is rested for five years in proprietary 75-year-old American Ozark white oak barrels. Crafted from 7-12-year-old Blue Agave, you can expect subtle notes of herbs and spices, floral accents and fruits like apricot and citrus.
 
Pick up your bottle today!
More Information

| | |
| --- | --- |
| Proof | 80 (40% ABV) |
| Distiller/Bottler Name | Simebra Spirits |
| Size | 750mL |
Subtle notes of herbs and spices on the nose with hints of floral accents. The palate is well-balanced with stray notes of fruit, especially apricot and citrus.
Note: Not Eligible for Return
Out of stock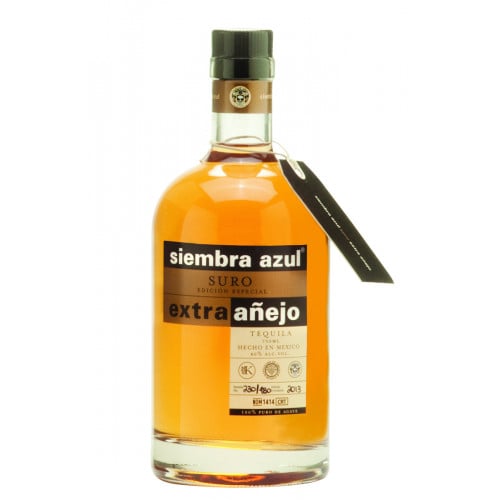 Limited Edition