Patron x Guillermo del Toro Tequila
This exclusive box was created in partnership with legendary filmmaker Guillermo del Toro and his "partner in crime" Guy Davis. The luxurious box transforms into an altar and contains a 5-year-old Extra Añejo and an aged orange liqueur.
The Patrón Spirits Company was launched in 1989 by John Paul DeJoira and Martin Crowley. With its inception, came the world's first ultra-premium tequila. A new state-of-the-art facility was constructed in Jalisco in 2002, to facilitate its profound reception. It became the first spirits brand in its class to sell one million cases.

Francisco Alcaraz is the Master Distiller & Blender behind the recipe for the Mexican spirit. Produced at the Hacienda de Patrón, the distillery sources agaves from Los Altos in Jalisco. Their signature lineup is created using a hybrid technique: half of the agaves are traditionally tahona-crushed, while the other half are modern roller-mill crushed agaves. The freshly milled desert succulents are slow-roasted in an oven, before being fermented in wooden vats.

Like tequila, the legendary Oscar-winning filmmaker Guillermo del Toro was born in Jalisco, Mexico. This luxurious expression celebrates his work as well as the spirit in a box that contains Patrón Extra Añejo Tequila, a liqueur, a pair of candles, and an artbook. The bottles and box were designed in collaboration with del Toro's longtime "partner in crime" Guy Davis and feature depictions of skeletal jimadors as well as 2 bottles that form a skeletal bust: the skull is a smaller 100mL bottle with the liqueur, the torso is the 750mL bottle with the tequila, and the box transforms into an altar. The tequila is a 5-year-old Extra Añejo aged in both new and used oak, while the liqueur is an aged orange liqueur. When mixed together, they are joined in perfect harmony for a mystical and one-of-a-kind drinking experience.

Get this luxurious package today!
More Information

| | |
| --- | --- |
| Proof | 70 (35% ABV) |
| Distiller/Bottler Name | Patrón Spirits |
| Size | 750mL |
The tequila: You can expect sweet aromas of dried fruit along with nuts and vanilla on the nose. The palate is equally sweet and fruity with honey and oak notes that linger through the finish with plenty of agave.

The liqueur: The liqueur is fruity with vanilla, clove, and caramel on the nose. On the palate, there's honey, dried fruit, nuts, orange, and vanilla. The finish is citrusy with cooked agave.
Note: Not Eligible for Return
Out of stock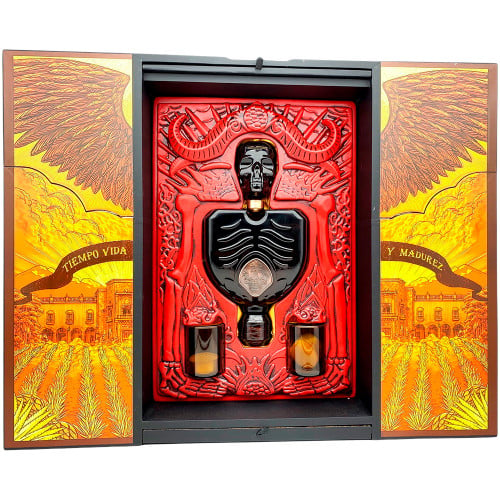 Limited Edition