El Mayor Single Estate Blanco Tequila
This deliciously herbal blanco tequila is made exclusively from agave on the Los Lobos Plantation, the highest altitude in the lowlands of Jalisco, at 1900 meters above sea level.
For over four generations González family has been perfecting the tequila-making craft. To this day, they incorporate age-old processes and values handed down for generations.
El Mayor
represents a legacy of Tequila. Rodolfo González is a very hands on Master Distiller. Passionately overseeing the entire process from field to bottle, and ensuring every drop that leaves his distillery is nothing short of perfection. Rodolfo's son Paul and daughter Graciela represent the fourth generation of Gonzàlez distillers and continuation of the family legacy.
El Mayor tequilas are handcrafted in the fertile, rocky soils of Jalisco Mexico using Weber Blue Agave. Once harvested their hand-selected agave is chopped stacked and cooked in autoclaves, before the cooked agave is shredded and gently pressed to extract the full agave flavor. After being fermented with a proprietary, family owned yeast strain, the agave juice is double distilled in copper lined pots.
Part of the El Mayor Signature Collection, this limited edition blanco comes from the Los Lobos Plantation, 1900 meters above sea level. The diverse soil results in an exceptionally smooth tequila with a unique flavor profile.
Pick up your bottle today!
More Information

| | |
| --- | --- |
| Proof | 80 (40% ABV) |
| Distiller/Bottler Name | Asbury Park Distilling Co. |
| Size | 750mL |
A full bodied entry gives way to the perfect balance between wood, caramel, dark chocolate and hazelnut. The finish is long, complex and elegant, ending with the flavors of cooked agave.
Note: Not Eligible for Return
Out of stock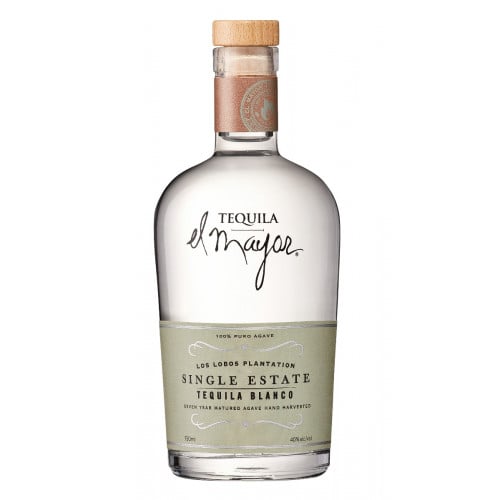 Limited Edition