Bruichladdich Octomore 06.3
Peated to an unheard of 258 phenol parts per million — making it by far the peatiest whisky ever released — and bottled at an incredible 128 proof, this limited edition whisky is distilled entirely from Islay barley.
Inspired by an entrepreneurial flair and a youthful enthusiasm, the Harvey brothers began construction of the
Bruichladdich
(pronounced brook-laddie or broo-lah-dee) Distillery in 1881. The brothers were descendants of a dynastic whisky family — their ancestors had already owned distilleries in Scotland for over a century. Today, Bruichladdich Distillery (Bruichladdich means "rocky shore" in ancient Gaelic) remains situated on the shores of Loch Indaal on the island of Islay, and continues to use much of the original equipment installed by the Harvey brothers.
The modern Bruichladdich Distillery is known as the most experimental and adventurous of the Scottish distilleries, and the Bruichladdich Octomore Series represents a singularly unique expression in the world of Scotch whisky.
Bruichladdich Octomore 6.3 is the first release in Bruichladdich's Octomore series that is distilled entirely from barley grown on Islay. The whisky takes its name from Octomore Farm, a farm situated high above the village of Port Charlotte, just two miles away from Bruichladdich Distillery (the farm provides all of the barley used to create the whisky). Once barley from Octomore Farm has been harvested, it is malted before being peated to an absurdly high 258 phenol parts per million, making it by far the peatiest whisky in the world.
After the barley has been peated, it is mashed using water drawn from the Bruichladdich loch. The water is soft and devoid of minerality, which makes it ideal for mashing and fermenting the barley. Following fermentation, the wash is twice distilled through Bruichladdich's 130 year-old, 20-foot tall, diamond-shaped stills. The Victorian-era stills produce whisky that is notably floral and elegant. "We have a distillery," says Jim McEwan, the master distiller at Bruichladdich, "and we know how to use it."
Once the whisky has been distilled, it is matured for five years before being bottled at 128 proof without the use of chill filtration or artificial coloring. The whisky is surprisingly gentle despite its proof, with floral notes, followed by vanilla and nuts. The softer notes yield to peat as the whisky opens on the palate.
"This is no monstrous brute," says McEwan. "It's an iron fist in the velvet glove. That's what you get when you combine massively smokey barley with the purest spirit around. It's like nothing else on earth. It also shows what great quality barley, slow, artisan distilling, and premium quality wood can achieve."
Pick up a bottle today!
More Information

| | |
| --- | --- |
| Proof | 128 (64% ABV) |
| Distiller/Bottler Name | Bruichladdich Distillery |
| Size | 750mL |
Surprisingly gentle despite its proof, with floral notes, followed by vanilla and nuts. The softer notes yield to peat as the whisky opens on the palate.
Note: This product is not eligible for gift wrapping.
Note: Not Eligible for Return
Out of stock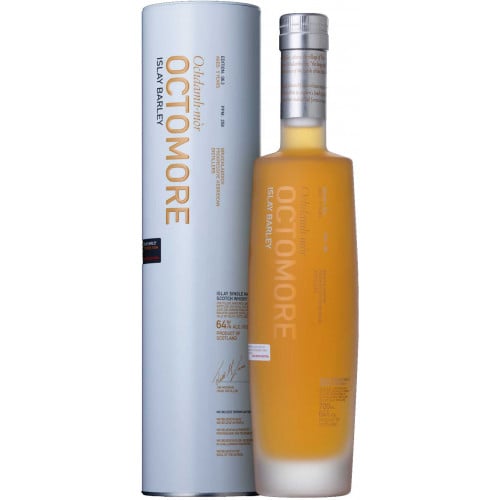 Limited Edition