Forty Creek Heritage Limited Edition 2017
Forty Creek Heritage earned 92 points from Whisky Advocate. This Limited Edition release is finished in heavily toasted casks and was named "Best New Whisky at the Canadian Whisky Awards 2018." Only 6000 bottles of this release were produced.
Forty Creek follows in the Canadian whisky tradition, which began in the 1800s, a time when over 200 individual whisky distillers were busy at work crafting their own signature products. Canadian blends were traditionally produced with a high percentage of corn, supplemented by a mash bill of rye and barley.

Canadian whisky's popularity surged during Prohibition in the United States, and in the 1950s and 60s. By the 1990s, the Canadian whisky industry had consolidated considerably, leaving only a few large distilleries producing the majority of whiskies on the market each year.

It was around this time, in the early 1990s when winemaker John K. Hall, a man with over four decades of experience in the wine industry, launched his dreams of becoming a world-class whisky-maker in Ontario, founding Forty Creek in Grimsby, Ontario.

Before crafting the first batch of Forty Creek Whisky in 1992, John Hall had spent the previous two decades as a winemaker and industry expert. "They say if you find a job you love, you will never work a day in your life," he says. "Forty Creek Whisky is that job for me."

This Forty Creek Heritage expression is an annual Limited Edition release. Finished in heavily toasted casks, which retains the barrel spice, this whisky is made in the same likeness as their original Three Grain whisky— one of the first whiskies produced by the Forty Creek. Crafted from handpicked corn, rye, and barley whiskies by Master Blender Bill Ashburn, Heritage Limited Edition finished in toasted American oak barrels.

Forty Creek Heritage release earned 92 points from the Whisky Advocate and was named "Best New Whisky at the Canadian Whisky Awards 2018." Only 6000 bottles of this release were produced.

Pick up Forty Creek's annual release today!
More Information

| | |
| --- | --- |
| Proof | 80 (40% ABV) |
| Distiller/Bottler Name | Forty Creek |
| Size | 750mL |
Fruit notes on the nose with notes of ginger, vanilla, and intricately nutty flavors layered with bittersweet dark chocolate. Rye spice transitions to a tart finish with smooth sandalwood.
Note: Not Eligible for Return
Out of stock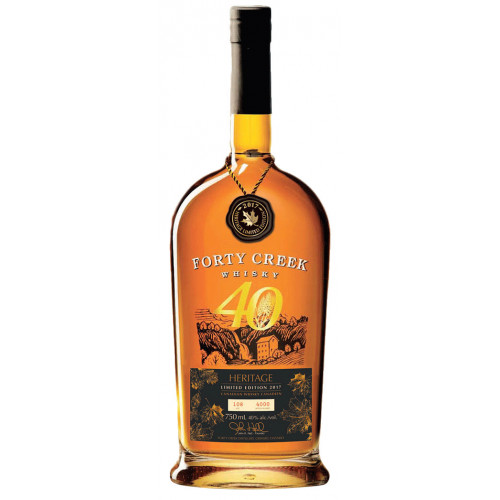 Limited Edition