Widow Jane 12 Year Old Straight Bourbon Whiskey (Caskers Exclusive)
This special Barrel No. #1 is a special Caskers exclusive and Widow Jane's first ever 12 year private barrel bottled.
To build a great city, you start with the toughest foundation known. The greatest structures in New York City, from the gargantuan caissons of the Brooklyn Bridge to the 27,000 ton pedestal of the Statue of Liberty to the Empire State Building itself, are held fast and strong by natural cement made from limestone from quarries located in Rosendale, New York.

To make a great whiskey, you start with the finest water available. Following on the heels of the tremendously successful Widow Jane predecessors Widow Jane Single Barrel Kentucky Bourbon uses water from the same limestone quarries in Rosendale that were mined to create New York's greatest architectural achievements.

Bold and complex, the whiskey benefits from its Kentucky heritage, but it's the smooth, mineral-rich New York water that gives the whiskey its unique flavor profile.

Widow Jane Whiskey is a true New York City whiskey, evocative both of one of mankind's greatest achievements — New York City's skyline — and Brooklyn's artisanal, craft spirits movement. Both urban and urbane, Widow Jane Whiskey is New York's very own — a signature whiskey of the world's most magnificent and maddening metropolis.

This is an exquisite barrel of Widow Jane, handpicked for Caskers members. Only 138 bottles in existence this bourbon is bottled at 49.5% ABV.

Pick up one of these rare treasures today.
More Information

| | |
| --- | --- |
| Proof | 99 (49.5% ABV) |
| Distiller/Bottler Name | Cacao Prieto |
| Size | 750mL |
Notes of a butterscotch and caramel corn on the nose, followed by the super creamy notes of toasted cacao and candied peanuts on the mid-palate with a grandiose long finish that seems to stick with you forever.
Note: This product is not eligible for gift wrapping.
Note: Not Eligible for Return
Out of stock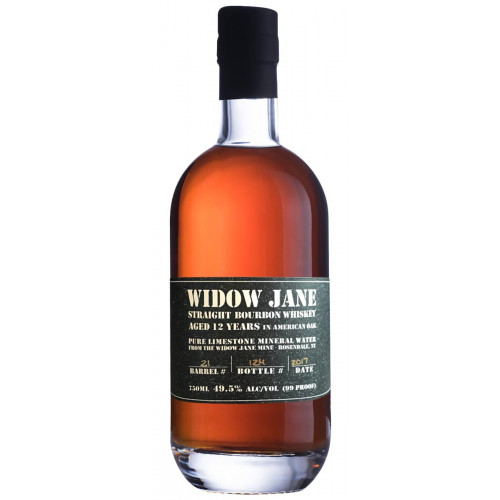 Exclusive