Smoke Wagon Fourth of July Straight Bourbon Whiskey
This limited-edition bottle features a unique tri-color design celebrating the Fourth of July, making it the perfect Independence Day companion. The liquid within is the same award-winning Smoke Wagon bourbon.
The story of Nevada H & C Distilling Co. begins in 2004 when the screenwriter Jonathan Hensleigh met co-founder Aaron Chepenik in a bar in Eagle Rock, Los Angeles. They quickly realized they had the same vision of opening a bar, opening The Griffin together. After a couple years of sampling their inventory, they began discussing what they liked and didn't like about the bourbons and vodkas they were selling.

One night, the idea of creating their own spirits popped up, which eventually led to them opening the first distillery in the city of Las Vegas. The City Council had to create a license especially for them since none existed beforehand. It took them 6 years of gathering equipment and setting it up, with several hurdles along the way. The bright side was that by the time they opened their doors they had several high-rye bourbons ready, which meant they could begin operating immediately.

They have two brands under their belt now, both with several medals from the San Francisco World Spirits Competition: Silver Dollar American Vodka and Smoke Wagon. The latter comprises several bourbons, including the Smoke Wagon Straight Bourbon Whiskey which was released in 2019. Their entry-level expression showcases the signature Smoke Wagon profile with sweet notes and rye spice.

The high-rye mash bill spirit was racked on the top 2 floors of their warehouse and never rotated, letting the hot summer days work their magic on the wood and the liquid within. Bottled without chill-filtration at 92.5 proof, it has won a Double Gold Medal at the 2020 edition of the San Francisco World Spirits Competition. This limited-edition bottle features a unique tri-color design in celebration of the Fourth of July, making it the perfect companion for your celebration.

Celebrate July 4 with this bourbon!

More Information

| | |
| --- | --- |
| Proof | 92.5 (46.25% ABV) |
| Distiller/Bottler Name | Nevada H&C Distilling Co. |
| Size | 750mL |
The nose has honey, toasted nuts, as well as oak, and a touch of heat. It's creamy on the palate with a honey & caramel sweetness, as well as oak, pepper spice, and nuttiness. Finishes sweet and creamy with lingering rye spice and oak.
Note: Not Eligible for Return
Out of stock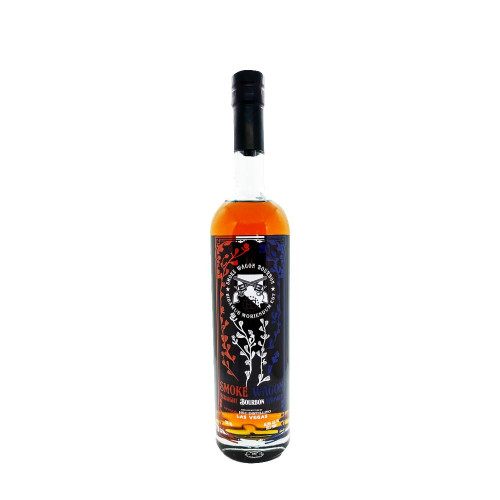 Limited Edition