Knob Creek Single Barrel Select (Caskers Exclusive)
Bottled from a single hand-picked barrel, this bourbon was barreled in May 2011 and selected in November 2020. The entirety of the barrel's contents is available exclusively at Caskers. The unblended 120-proof spirit is the purest expression of Knob Creek's old-style flavor.
Following the end of the American Revolutionary War, Johannes Reginald Beam emigrated from Germany to the United States and eventually settled in Kentucky County. At the time, Kentucky County was still considered part of Virginia, and was overseen by a military governor named John J. Bowman. After settling in Kentucky, Beam began harvesting corn and set forth a family tradition by distilling the excess grains he harvested into whiskey. Since then, seven generations of the Beam family have been involved in whiskey production for the eponymous company (the company is actually named after James Beam, who rescued it following Prohibition).

Knob Creek Bourbon was created by Beam's grandson, Booker Noe, who after joining the family business in 1950 was promoted to Master Distiller just ten years later. Booker talked like a true Kentuckian and was known for his contagious personality, and through his launch of the "Small Batch Bourbon Collection" — the collection includes Knob Creek as well as Basil Hayden's, Booker's, and Baker's bourbons — he is often credited as the father of the small-batch bourbon movement.

Knob Creek Bourbon takes its name from the small water source, Knob Creek, that ran through President Abraham Lincoln's childhood farm. Booker's vision for Knob Creek Bourbon was that of an honest, quality bourbon that could meet the standards — strength, flavor, care, and patience — of bourbon made before prohibition distressed the industry just decades earlier. Like Abraham Lincoln himself, Booker designed Knob Creek Bourbon to be honest, unwavering, and full of character.

This Knob Creek Single Barrel Select Bourbon is bottled from a single cask, hand-picked based on its final age, rack placement and other proprietary methods passed down for many generations. This level 4 char white oak barrel, bottled exclusively for Caskers, comes from rack 057, floor 03 of warehouse no.1. It was barreled in May 2011 and selected in November 2020, making it a more than 9-year-old bourbon. Bottled at 120 proof, this unblended spirit is the purest Knob Creek expression.

Grab this fantastic Caskers-exclusive bourbon today!

More Information

| | |
| --- | --- |
| Proof | 120 (60% ABV) |
| Distiller/Bottler Name | Knob Creek Distillery |
| Size | 750mL |
The rich burnt umber bourbon has aromas of toasted nuts, vanilla bean, and oak. The palate has dried fruit, maple syrup, and a pleasantly creamy sweetness, leading to a woody finish with a touch of cinnamon and caramel.
Note: Not Eligible for Return
Out of stock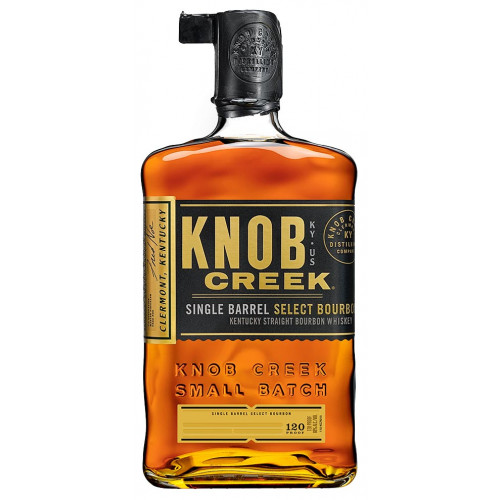 Exclusive