Balcones True Blue Single Barrel (Caskers Exclusive)
This is a Caskers-exclusive barrel pick of Balcones' True Blue, their fabled blue corn whiskey. The 111.6-proof expression is a deep and complex whiskey that is as powerful as it is subtle. It's also only available here in strictly-limited quantity.
What started as a passion project in an old Texas welding shop in 2009, has grown into one of the most unique craft distilleries. Since 2014 their whiskey is crafted in a new state-of-the-art distillery using handmade Scottish Forsyths copper-pot stills and only the finest ingredients.

After mashing, they slowly ferment at cool temperatures for seven days. Their fermentation process, which takes nearly twice as long as most other distilleries and is done at much lower temperatures, ultimately produces a richer, smoother whiskey. After distillation, they age the whiskey using a unique barreling process. "The main difference between Balcones and other single malts," they explain, "is the barreling. The cooperage we use and the care we put into blending and reblending the casks defines a lot of what makes our malt what it is. All of the barrels used are bespoke casks made from fully yard-aged oak with custom toast and char profiles."

Then there's their Blue Corn Whiskey, a very special type of beast. It wasn't just the first whiskey made in Texas since Prohibition, it was also the first and only blue corn whiskey made anywhere in the world and Balcones True Blue builds on that with style. Crafted from a mash bill of 100% blue corn, sourced from a Midwest co-op, it was "born, raised, and bottled at Balcones–from mash to glass."

This unique Balcones True Blue Single Barrel Corn Whisky was hand-picked by Caskers, meaning it's limited, unique, and only available here. Bottled at 111.6 proof, it's a deep and complex whiskey that is as powerful as it is subtle. The profile has a rich fruitiness, honey, citrus, and roasted corn and is bound to please the discerning palate.

Pick one of these unique limited-edition bottles up today!

More Information

| | |
| --- | --- |
| Proof | 111.6 (55.8% ABV) |
| Distiller/Bottler Name | Balcones Distillery |
| Size | 750mL |
The nose opens with apricot, mango, cinnamon, caramel, cocoa, and a hint of nuttiness. There's oak, char, and black tea on the palate, along with salted chocolate, leather, roasted corn, spice, and coffee notes. Finishes long and slightly warming with lingering dried dark fruit, dark chocolate, and oak.
Note: Not Eligible for Return
Out of stock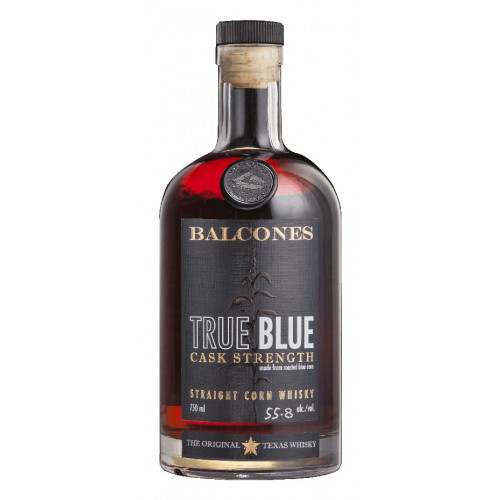 Exclusive